Wai Thai clients know that everything in Wai Thai salons is designed for the most important people- our clients! That means we not just know your name, your favorite therapist, but we also foresee your call and a precise time and procedure you want, so without asking any questions we shall just do our best room and your favorite aroma.
Wai Thai subscription makes you a welcome guest in our salons and allows to get a good discount for your loyalty
Wai Thai subscription – massive savings!
We have 5 types of Wai Thai subscribers: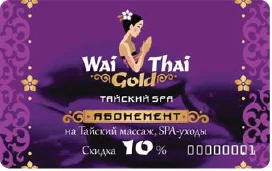 Massage and SPA subscription 10% discount - 17 000 RUR
Valid for 6 months.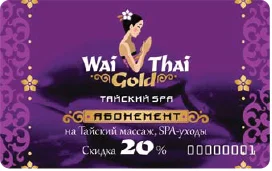 Massage and SPA subscription 20% discount - 25 000 RUR.
Valid for 6 months.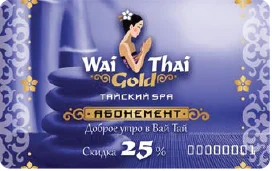 subscription «Dobroye utro (Goo Morning)» - 25% discount from 11 to 15 on work days – 35 000 RUR.
Valid for 6 months.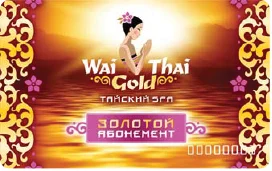 subscription «Zolotoy (Gold)» 30% discount- 100 000 RUR.
Valid for 1 year!
Subscpiprion «Bezlimitsniy (Ni limits)» - is a new exclusive offer from Wai Thai. If you can't imagine your life without massage, drive around Moscow a lot and have a lot of trips in Russia it's the best solution for you. Within a year you can go to ANY of Wai Thai salons for SPA and massage without any limitations with a discount of 30%. Cost of this subscription is 300 000 RUR.
It has your name on it so it cannot be transferred to any third person
Your family and friend can use it but only in your presence
The subscription can be bought on-line only
General rules
You can use your subscription only in a certain Wai Thai salon you've chosen (except for «Bezlimitniy (No limits)»
Your relatives and friends can come with you and use your subscription!
The amount of discount is written on the card.
Benefits of subscription
Priority appointment for the time you chose
You can invite friends
Appointment to your favourite massage therapist
Special offer for subscription owners
Money saving
New – you can buy massage subscriber and get SPA as a present at our website
New – subscription with no limits (visits are not limited and you are not attached to a certain Wai Thai)
You can buy subscription for yourself or as a present in Wai Thai salon, on Wai Thai website and start it in any Wai Thai salon later.